Antal International
Having formed in 1993, Antal has rapidly grown across the globe, penetrating and having a major presence in all key talent markets, including strategically important developing markets, enabling us to become a leading global recruitment and search specialist in each of our specialised areas of expertise.
We have a network of over 800 people operating under the Antal brand across 35+ countries, making successful talent placements in more than 75 countries across the globe.
We believe it is our experience, skill-base and sector expertise, coupled to the fact that our people - specialist recruiters and senior ex-industry professionals, based in physical offices in 35+ countries - which differentiates Antal from other recruitment solutions and makes us unique in the talent consultancy and recruitment arena.
Overlay this with our extensive globally-local reach and our collaborative methodology, working across international boundaries within the Antal network, to ensure that we have culturally-aligned local consultants working on our clients and candidates behalf, Antal is ideally positioned to be the global talent solutions partner of choice.
Our people are uniquely placed at the heart of talent within your local and international recruitment markets. We have scale and international reach, yet understand local cultural differences; our people are skill-base and sector experts in whom our clients and candidates trust.
Our Strategy
The Antal strategy encompasses a three-pronged approach.
We continue to look to organically expand within the existing group of offices. This involves both strengthening and diversifying our existing speciality coverage, whether skill-based or sector-based, in countries we have physical offices in and new, to enhance our robust recruitment solution to service any business looking to hire professionals. We also look at where we can effectively broaden our service offering, with current capabilities including permanent, contract, temporary, RPO, outsourcing and executive search solutions.
The organic expansion works in tandem with our Network growth strategy, of partnering with experienced industry experts to open offices in new locations with the knowledge and experience in both known and new areas of speciality, to further our ability to service a wide range of clients world-wide; regardless of clients' scale, needs, location, culture or language.
The combination of our physical offices operating across 30+ countries in synergy, with experience in a variety of expertise, uniquely positions us as an international recruitment business with the coverage of a generalist, but often with the knowledge of a specialist. Our proven track record over the last 28 years has shown this to be effective in helping to provide an optimum solution to our clients, candidates and colleagues.
The third prong of strategic growth comes in the form of mergers and acquisitions. We keep a keen eye on recruitment businesses operating in areas we already have expertise, in new areas with opportunities for growth, and businesses who we believe will provide further successful synergy to our existing offices. Our first acquisition occurred in 2011 with UK-based Parkside Recruitment, and more recently with the reacquisition of Antal CIS in 2017.
Values
Our values represent and define Antal as a group and are the foundations of which every Antal office is built upon: Achieve results every times, nurture our business relationships, be the trusted advisors to our candidates and clients, aspire to be the best in our field and lead the way in global recruitment.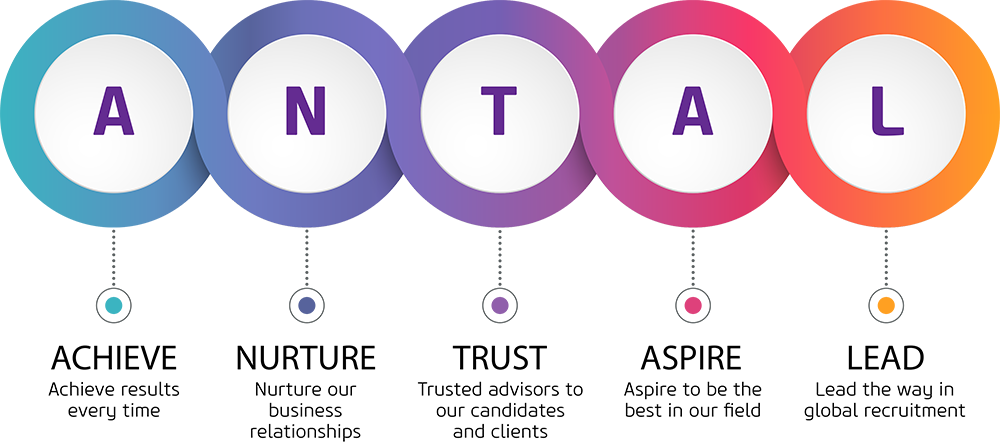 Our Responsibility
Corporate Social Responsibility.
At the core of our business, we bring people together to empower individuals and enrichen lives. We take this beyond recruitment and our employees and partners globally have a huge passion for helping others in and outside of the workplace.
We established the Antal Charitable Foundation in 2008, mostly focuses on helping children's charities across the globe whose aim is to support children and young adults who are disadvantaged, through no fault of their own, by physical disability, parenting issues, natural disasters and political mismanagement.
Antal Founder & Executive Chairman Anthony Goodwin is a major proponent of encouraging Antal's charitable culture, raising thousands by running the Great North Run each year, to support children's charity Barnardo's and in 2021 to support Save the Children.
100% of the donations made through ACF will be passed on to Save the Children, whereas other fundraising platforms tend to keep a small percentage of the donation as a platform cost.
To donate and support, please visit our Donate page where you can make donations via PayPal.
There are countless other examples of contributions across the Antal network, including Antal CIS countries, as Kazakhstan and Uzbekistan supporting projects for charities such as Anton tut ryadom (helping those with autism adapt to society), Starost' v radost (helping to improve the quality of life for the elderly) and helping to hold a "Gans & Tanz" annual charity dinner in aid of various charitable projects.
Our History
One man, a telephone and an office in Putney, UK

1994 Opened Hungary, Poland, Germany, Italy, Turkey and Ukraine offices.

Opened office in Beijing, China.

Launched Antal International Network and sold 1st franchise in 2003

1st franchise sold in India.

65 Offices in 25 countries

Sold Antal CIS to private equity in a landmark deal (until 2017)

Antal acquires Parkside Recruitment (UK)

Antal sold Poland to Work Service Group - a publicity quoted company on the stock exchange

Antal International reacquires Antal CIS in a monumental deal

Antal grows to 130+ offices in over 30 countries worldwide

Ranked 56 in The Sunday Times' International Track 200 (fastest growing international sales)
Continue the journey with Antal